2017 Dutton Ranch Karmen Isabella Pinot Noir
More than eighty separate vineyards in the Russian River Valley go into this bottling. Russian River is one of the best places in California to grow world class Pinot Noir due to the cooler climate. The vineyards are certified organic, sustainably farmed, and dry farmed which consistently yields high quality grapes of exceptional varietal character. The grapes are harvested at night—a technique that with the cooler evening temperatures helps to make great wine.
The wine is garnet and purple in color with aromas of ripe raspberry and blackberry beautifully balanced with hints of fragrant French oak. Rich and full bodied with juicy flavors of ripe black cherry and strawberry with hints of persimmon and vanilla on the long complex finish. Only 800 cases of this wine were made.
Pinot Noir as a varietal is extremely versatile. If there is ever a question of which red wine to pair with food, Pinot Noir is usually a great choice. We love this wine with our local fresh salmon but it also pairs well with our ribeye steaks.
Click on the button below for a recipe from our owner Dan Spangler that pairs beautifully with this wine!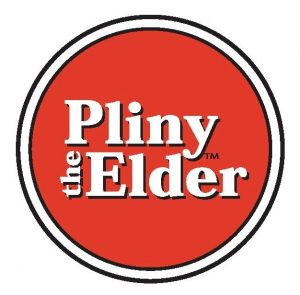 Pliny the Elder by Russian River Brewing
For many years Pliny the Elder was the Holy Grail of the beer world. A ghost beer that many people had heard about, but was never seen. Microscopic production coupled with huge demand made this beverage almost impossible to find. Typically a lucky retailer might receive a case or two and then try to figure out what to do with a dozen bottles when they had hundreds of people clamoring for the product. On October 11, 2018 Russian River Brewing Company opened the doors of their second location greatly expanding their production capacity—Pliny for the people! (At last.)
Pliny the Elder is a Double India Pale Ale. Pliny the Elder is brewed with a blend of four different hops—adding to its complexity. . It is well-balanced with malt, hops, and alcohol, slightly bitter with a fresh hop aroma of floral, citrus, and pine. Best enjoyed FRESH! Which is why it is in limited supply. Actual bottling date is printed on each bottle.
Grilled pork chops and ribs and even chicken all pair very nicely with Pliny the Elder. Sharp cheddar and blue cheese also work very well. We love this beer with our center cut pork chops.

Half Moon Bay Distillery Harvard Avenue Gin
Half Moon Bay Distillery was founded by Caesar and Uli Bisono a few years ago. Caesar and Uli worked for years perfecting the recipe for the gin which uses more than twenty different botanicals! This hand crafted gin is produced in a state of the art column still and is distilled seven times before the vapor infusion of the botanical elements of the gin. The vapor infusion process allows for the development of more complex flavors and better integration in to the final product.
Harvard Avenue Gin is crisp and bold with juniper, balanced with citrus and herb notes with a wonderful aftertaste. When we are not using Harvard Avenue Gin for martinis we love it with Fever Tree tonic and fresh lime.
A few foods that will go great with this lovely beverage include smoked salmon, fresh prawn, fish and chips, and strong cheeses.